About Our Hermitage
The Albertine Brothers' hermitage was built by St. Brother Albert and his confreres in 1902 in the Tatra Mountains in the place offered to them by the that-time owner of Zakopane - count Ladislaus Zamoyski. The monastery was several times rebuilt by brother Leon, brother Angelus and brother Bonawentura. The chapel of Our Lady was built and decorated in the year 1926. It was dedicated together with the whole monastery by bishop Anatol Nowak.
On 17 September 1977 the wooden building of the hermitage was entirely destroyed by fire. His Holiness John Paul II performed the consecration of the rebuilt hermitage's cornerstone on 1 August 1980 in Castel Gandolfo. Cracow Archbishop Franciszek Cardinal Macharski laid the cornerstone on 3 September 1983. The construction works of the hermitage with the new chapel of St. Brother Albert were finished in 1984. The project of the today's monastery was made by Mrs Danuta Kopkowicz and Mr Zbigniew ¦liwiński, architectural engineers.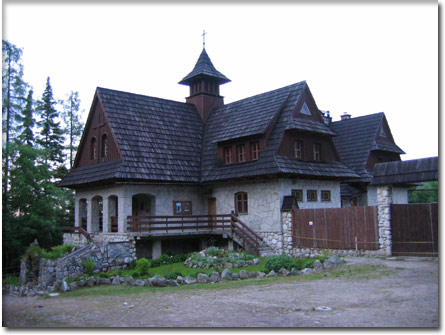 Hermitage after reconstruction.
The wooden sculpture of the Crucified Jesus which is set above the altar inside the chapel is a gift of Cardinal Franciszek Macharski. It was carved following the pattern of the Holy Cross from the Cistercian Church in Cracow.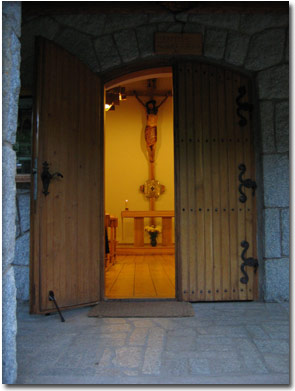 St. Brother Albert's chapel's door.
The aim of Brother Albert's retreat houses foundations was that his Brothers needed to recover their spiritual and physical powers after an exhausting work for the poor. This they could do especially by prayer and a deeper meditation on the Divine mysteries. The Saint Founder of the congregations would emphasize that there must never be an insufficient number of hermitages, as he used to explain: "because only then there will be a strict discipline and a genuine religious life will be rooted in the Congregations with a magnificent glory of God, and everything will be successfully developing in the shelters as well as in the other houses. If there is no hermitage, we shall not be able to found any shelters for the poor since we will run short of perseverance, dedication and a strength to serve in them."
Since the year 1984 this monastery is where the novitiate of the Congregation is located. Here young brothers spend a two-year-long period preparing themselves to pronounce their first religious vows.