History of the Albertine Congregation
25th August 1887 is said to be the date of Saint Brother Albert's work's beginning, since in that day Adam Chmielowski invested the habit of the 3rd Order of St. Francis of Assisi. Then he started to live in a municipal refuge for the materially and morally destitute people of Cracow, in order to know their needs and to have a positive influence on them giving an example of an honest life and work. As the one who shared the life of the poorest, he turned the refuge into a warm shelter for Christ and encouraged the brothers of his Congregation to see Jesus in each human being. A year later, on August 25, 1888, Brother Albert pronounced his religious vows and that event is acknowledged as the foundation of the Congregation of the Albertine Brothers.
After the Founder passed away, the albertine community was given its own Constitutions and the Rule of St. Francis of Assisi in the year 1928. The Congregation was formed as the Third Regular Order of St. Francis - The Brothers Servants of the Poor.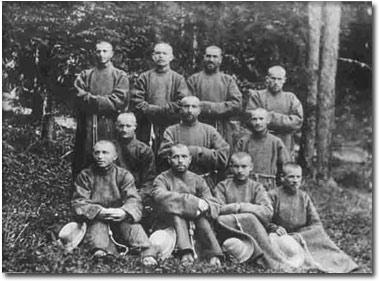 Albertines who were the first who lived in the Hermitage in Zakopane
In the period before the Second World War, the Congregation developed successfully and had ca. 100 members who lived in over ten houses, running shelters for the parentless and poor youth, as well as printing houses and workshops. Also, a St. Brother Albert's Aid Society was founded and performed varied charity work. The war turned out to be a serious harm to the Congregation - some of the houses were closed down, brothers were arrested and violently imprisoned in concentration camps. For some of the brothers, including the superior general of the Congregation, that war cost their lives.
When the war came to its end, the Congregation was not able to stand up firmly on its feet again, because new difficulties appeared. Houses located in the eastern parts of Poland (it concerns its territory before the war) were closed down, while the other shelters were turned into care houses for the protractedly or mentally ill people. Most brothers were not prepared for this kind of work at that time. However, they accepted what they were made to do, believing and trusting in God's care. Social and political changes that took place after 1989 brought new perspectives for the Congregation. Since that year new houses in which brothers serve the homeless, hungry, spiritually and materially neglected, have been founded.
Nowadays the brothers of our Congregation work in:
Houses for the homeless men (a nighttime sleep shelter, an all-day shelter and social quarters for men who are in the process of becoming self-reliable)
Charity houses for the mentally and physically handicapped
Kitchens (dining points) for the poor